About Our Colorado Springs Criminal Defense Team
Meet the Colorado Springs Criminal Defense Team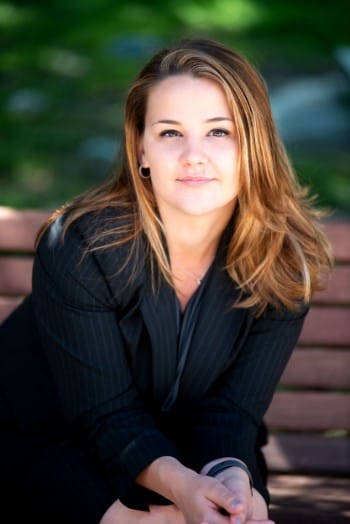 Alexis Austin – Criminal Defense Attorney and Managing Partner
Thank you for taking an interest in our firm. My name is Alexis Austin, and I am the founder of Right Law Group. I wanted to take the time to personally write this message to you because I am not a typical criminal defense attorney. I did not want a standard third person lawyer resume as a biography page. I want you to be able to read this and get a sense of who I am and how our firm operates.
The truth is, the majority of Colorado Springs Defense attorneys are pretty similar. All of them can tell you about your rights, most of them say that they have years of trial experience, most of them come from either a public defender or a district attorney background, and all of them will be able to analyze your case and help you form a defense strategy – and we are no different in that regard. However, we believe the most important factor that you should consider when determining which law firm you want to choose as your partner in this journey is the relationship you can build with your lawyer and how easy they can make the experience for you. That is why I designed this firm to be different. 
We use the latest technology to make your experience as smooth and efficient as possible. We offer pricing based on the charge you are facing, not based on what we think you can pay after we talk to you like so many other firms do. We believe in transparency, fairness, and the client experience above all else. Finally, we remain very accessible via phone, text, email, and social media messaging so that you can always feel connected.
Our goal at this firm is to not only help you navigate the criminal justice system, but to get to know you on a personal level. Ultimately, we would like to be your go to law firm whenever you have a legal question or need help, and we would like to build a long-lasting relationship. To that end, let me tell you a little about who I am and why I practice in this area of law.
I moved to Colorado in 2010 to attend the University of Denver Sturm College of Law after receiving degrees in both Psychology and Philosophy from the University of Memphis. I was drawn to Colorado by the 300 days of sunshine a year and the abundance of outdoor adventures available to us in this state. I love hiking and camping in the summer, and while I am nowhere near as good as my friends, I enjoy skiing (and falling down the mountain) in the winter months. I entered the practice of law because I wanted to have a profession where I could truly help people.
While in law school, I represented low-income clients in civil matters. I then worked for many years as a prosecutor, gaining expertise in prosecution and law enforcement tactics, before deciding to use that knowledge to defend clients of my own. I prosecuted traffic and misdemeanor cases with the Arapahoe County DA's office from 2012-2014. In 2014, I accepted a position in Pueblo County as a prosecutor, where I was quickly promoted to lead domestic violence county court prosecutor. There, I helped develop the domestic violence fast-track program for Pueblo County and earned multiple certifications in domestic violence prevention, treatment, and trial tactics. I was then promoted to the felony prosecution unit where I handled cases ranging from felony DUI and drug offenses to serious assaults, trafficking, and homicides. I regularly trained officers in matters of law enforcement and gave legal advice on scenes involving death. In 2016, I joined the 4th Judicial District Attorney's office in Colorado Springs to be closer to family. 
My passion has always been to help and guide people in difficult situations, so moving from government to private work where I got to know clients personally was incredibly rewarding. I have always believed in second chances and helping people as much as I can. It became increasingly clear to me that I could do more to help people by representing them than by being a DA, so in 2017 I joined the Liberty Law Center. I found my calling defending clients and fighting to protect their rights. I am truly dedicated to ensuring that my clients receive the most diligent representation available, both in court and in the intricate legal system as a whole. In 2018 I opened Right Law Group, P.C. to provide the highest level of care and efficiency in the process of guiding people through the criminal justice process.  
So many people take off down a road in life without having any idea where they are going or what their plan is if something goes wrong. Then they end up in a rough spot –pulled over for a DUI, dependent on mind altering substance, fighting with their significant other and then the cops get called – and they have no idea how to get back on track in life. I try to act as a guide for my clients and help them find the right path, get back on the trail, and be more prepared for their journey through the criminal justice process. We stock clients up with all legal advice, discovery review, pretrial motions, trial strategy, and contingency planning they could possibly need to get them out of the difficult position they are in and back on the right path in their life.
So, if you are looking for someone to help you get back on track in life, we are here for you. We will work alongside you to make sure you have everything you need to get out of the tough spot you find yourself in and get back to living the life you want.
Thank you again for taking the time to learn a little about me and our firm. If you have any questions about how or what we do, or if you just want to connect, please call, text, email, or find us on social media!
                                                   Sincerely,
                                                       Alexis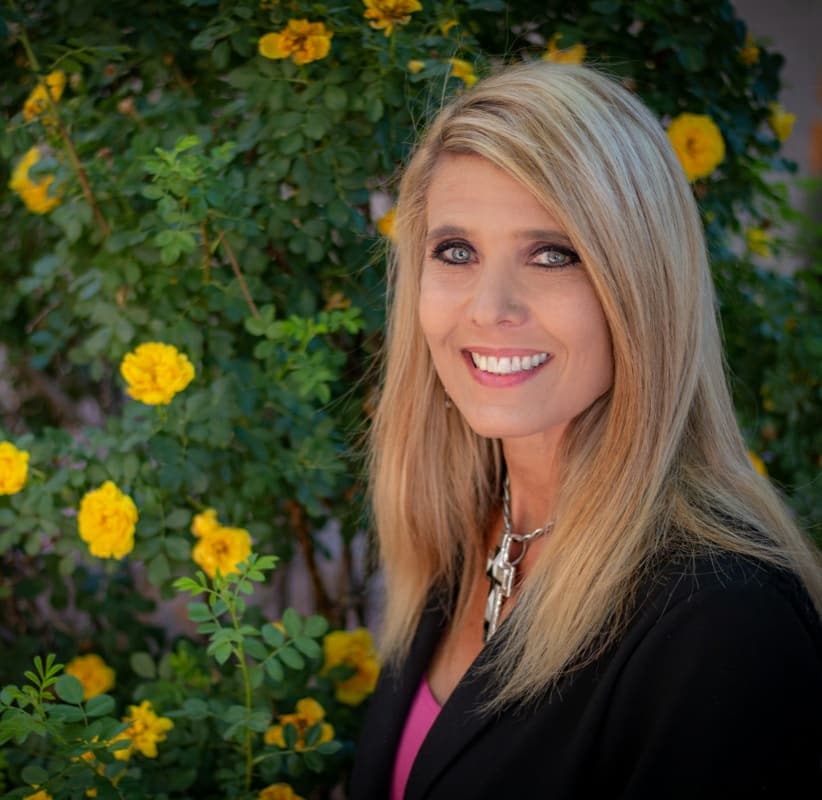 Rachelle Gonzales – Firm Administrator and Paralegal
Hello, my name is Rachelle Gonzales. I am Right Law Group's Firm Administrator and Paralegal which means I am in charge of making sure our clients get the absolute best client care possible from our firm's staff while our attorneys kick butt in court. Because our attorneys work hard in court to make sure our clients get the best representation possible, I spend a lot of time doing the behind the scenes work to help our attorneys and our clients. What I love most about our firm is that we take a team approach. Our clients do not just have one attorney handling their case. They have the backing of an entire team of legal help including 2 attorneys, myself as a paralegal, and our legal assistants. Because I work so closely with our clients, let me tell you a little bit about who I am so that you will know who you have in your corner if you become our client.
I am 47 years old, married, have 2 amazing kids – one son and one daughter – along with 3 awesome grandbabies. I love being with my family as much as possible which is why I love working at Right Law Group because the flexibility allows me to be with my family as much as I want. I love camping, fishing, and traveling. I was born and raised in Pueblo, Colorado, and I still live in Pueblo today. What some people don't know about me is that I am the keyboard player in the Grupo Mezcla/Mixed Emotions band that my husband started. He has been in a band for many years, so he decided one day to teach me keyboards so that we could do it together, and now we perform regularly from Pueblo to Denver.
After my daughter graduated high school, she asked me if I wanted to go back to school with her in order to get my Bachelor's Degree since I had put that part of my career on hold to focus on my family. My first response was "Hell no!" because it had been years since I was in school. However, the very next day I found myself enrolling. I graduated in May 2020 with my bachelor's degree in Sociology/Criminology and a minor in History which later opened up the doors for the opportunity to join Right Law Group in a management role. I am so thankful my daughter convinced me to go back to school with her!
While I love helping our clients now, I did not start out working in criminal defense. In fact, most of my background has been in law enforcement, government, and prosecution, but I have always enjoyed helping others in any role. That is where I get the most satisfaction. After graduating high school, I started working at the Pueblo County Sheriff's Office. In January of 1996 I was hired full time with the Pueblo County District Attorney's Office and remained there for a year before going back to the Pueblo County Sheriff's Office for 5 years. During that time, I also worked as a temporary employee at the Pueblo Police Department. In December of 2001 I took on more responsibilities as I started with the Pueblo County Treasurer's Office as the Administrative Assistant. While I was very good in my position at the Treasurer's Office, I found that I missed helping people who were going through difficult situations, so I went back to the District Attorney's Office in 2006. I recently retired from Pueblo County in July 2020 so that I could help people even more than I previously could at the District Attorney's Office.
I love being able to help others who are dealing with criminal charges because as we all know, mistakes happen, and we are all here to help you with these difficult situations. With my background in law enforcement and prosecution work, I am able to help our clients even more because of the knowledge I have gained over the years. I know how the State and police operate, and I use that understanding to better help our clients. As Right Law Group's Firm Administrator and head Paralegal, I promise to work hard for you when those hard times happen to help you get through it and back on the right path.
If you ever need anything at all, I am here for you. Thank you so much for considering Right Law Group as the firm to help you through what you are facing.
                                                   Sincerely,
                                                   Rachelle
Why Us? Reasons to Choose the Colorado Springs Attorneys at Right Law Group
OUR ATTORNEYS VALUE HONESTY
Many times, when you meet with an attorney, he or she will either scare you into feeling like you have to hire that law firm immediately or promise to give you the world on a silver platter. We do neither. The Colorado Springs attorneys at Right Law Group are straight forward with you. We don't scare you or make outrageous promises.
We will evaluate your case honestly and tell you the strengths and weaknesses upfront. We will give you reliable information and advice throughout the case, and when we can, we get you that silver platter, too.
LAWYERS WITH EXPERIENCE — BOTH IN AND OUT OF THE COURTROOM
This is the part where we are supposed to impress you with all the trials we've won, all the satisfied clients we have had and talk about how our Colorado Springs attorneys have inside information because we are "former DAs and PDs working for you," but everyone says that.
We offer our clients all the legal experience everyone else has and real-life experience. We know what it's like to fight, struggle and come out on the other side stronger than before. We have been in situations similar to yours. We know not only criminal and DUI law, but also real life. We know what it means to fight for what you want, and we will fight for you.
WE ARE DEDICATED TO SELF-IMPROVEMENT
Most of our clients come to us looking for help during a difficult time in their lives. We will not only work on resolving your legal issues, but we will also help you get the rest of your life back on track. We give referrals, advice, space to vent, firm directions, a shoulder to cry on and anything else our clients need to start improving their lives overall.
We constantly try to better our law firm as well. To that end, give us your input at letstalk@rightlawgroup.com. Let our Colorado Springs attorneys know how we are doing and how we can improve upon the services we offer. Just as we support our clients in constantly improving, we as a firm are always growing and learning, too.
THE NO B.S. APPROACH
We mean "big suits," obviously… and that other phrase you just thought of. We are not some stuffy law firm. You won't find us walking around in overpriced shoes and thousand-dollar pinstriped suits. Expensive outfits won't win your case — legal strategies specifically tailored to your individual situation will. Why us? We are not afraid to get our hands dirty, and we will not B.S. you about your case. We are real with you.
RIGHT LAW GROUP BELIEVES IN THE RIGHT FIT
You are not just a manila folder holding legal paperwork, so we don't treat you that way. To us, you are a unique individual with your own goals and issues. We treat each client as he or she should be treated — as a human being, not a file.
On that note, like all human beings, some people are not a good fit. If you come to us and we are not the right law firm for you, don't worry! We will find a Colorado Springs attorney for you who suits your specific needs. No hard feelings.
WHY US? FIND OUT HOW WE CAN HELP YOU
Why us? At Right Law Group, we offer free initial consultations, so you can get the information you need with no obligation. Call our Colorado Springs attorneys at 719-822-6227 or reach out to us to find out how we can help your criminal case move forward.
Colorado Springs Criminal Lawyer
The Right Representation Puts You First
If you are facing criminal charges, you need assertive yet caring counsel at your side. Having previously worked in the district attorney's office for three Colorado counties, our founding attorney, Alexis Austin, is now an aggressive criminal defense lawyer ready to serve you. She has built a law firm that is dedicated to helping clients who have been arrested and those needing assistance with DUI concerns. From DUI, Right Law Group always seeks the best possible results with their client-focused approach.
Read more details about our criminal defense lawyers at the profiles below:
We Will Get To Know You and Your Case
As experienced advocates, our approachable defense lawyers know the law and want to know you. We will sit down and get to know you personally, taking the fear out of your current circumstances. Our well-prepared strategy and aggressive defense tactics will help you breathe a bit easier.
Using the latest technology, Right Law Group stays highly responsive to clients' needs, keeping you connected throughout the legal process. When you call, we answer.
Everyone Makes Mistakes — Call Our
Criminal Defense Lawyers
To discuss your arrest or DUI needs in a free appointment, call our Colorado Springs firm at (719) 249-7677 or request an appointment online today. Our service-oriented criminal defense lawyers and DUI counselors are ready to listen.