About Our Colorado Springs Criminal Defense Team
Meet the Colorado Springs Criminal Defense Team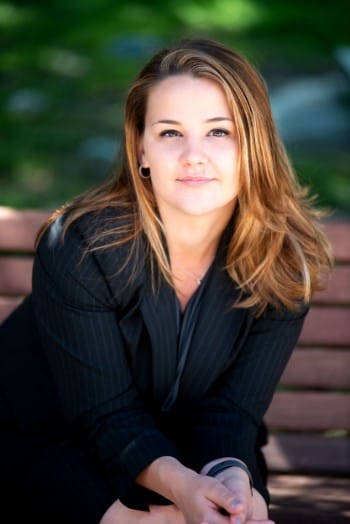 Alexis Austin – Criminal Defense Attorney and Managing Partner
Thank you for taking an interest in our firm. My name is Alexis Austin, and I am the founder of Right Law Group. I wanted to take the time to personally write this message to you because I am not a typical criminal defense attorney. I did not want a standard third person lawyer resume as a biography page. I want you to be able to read this and get a sense of who I am and how our firm operates.
The truth is, the majority of Colorado Springs Defense attorneys are pretty similar. All of them can tell you about your rights, most of them say that they have years of trial experience, most of them come from either a public defender or a district attorney background, and all of them will be able to analyze your case and help you form a defense strategy – and we are no different in that regard. However, we believe the most important factor that you should consider when determining which law firm you want to choose as your partner in this journey is the relationship you can build with your lawyer and how easy they can make the experience for you. That is why I designed this firm to be different. 
We use the latest technology to make your experience as smooth and efficient as possible. We offer pricing based on the charge you are facing, not based on what we think you can pay after we talk to you like so many other firms do. We believe in transparency, fairness, and the client experience above all else. Finally, we remain very accessible via phone, text, email, and social media messaging so that you can always feel connected.
Our goal at this firm is to not only help you navigate the criminal justice system, but to get to know you on a personal level. Ultimately, we would like to be your go to law firm whenever you have a legal question or need help, and we would like to build a long-lasting relationship. To that end, let me tell you a little about who I am and why I practice in this area of law.
I moved to Colorado in 2010 to attend the University of Denver Sturm College of Law after receiving degrees in both Psychology and Philosophy from the University of Memphis. I was drawn to Colorado by the 300 days of sunshine a year and the abundance of outdoor adventures available to us in this state. I love hiking and camping in the summer, and while I am nowhere near as good as my friends, I enjoy skiing (and falling down the mountain) in the winter months. I entered the practice of law because I wanted to have a profession where I could truly help people.
While in law school, I represented low-income clients in civil matters. I then worked for many years as a prosecutor, gaining expertise in prosecution and law enforcement tactics, before deciding to use that knowledge to defend clients of my own. I prosecuted traffic and misdemeanor cases with the Arapahoe County DA's office from 2012-2014. In 2014, I worked as a prosecutor in Pueblo, where I was promoted to lead domestic violence county court prosecutor. There, I helped develop the domestic violence fast-track program for Pueblo County and earned multiple certifications in domestic violence prevention, treatment, and trial tactics. I was then promoted to the felony prosecution unit where I handled cases ranging from felony DUI and drug offenses to serious assaults, trafficking, and homicides. I regularly trained officers in matters of law enforcement and gave legal advice on scenes involving death. In 2016, I joined the 4th Judicial District Attorney's office in Colorado Springs to be closer to family. 
My passion has always been to help and guide people in difficult situations, so moving from government to private work where I got to know clients personally was incredibly rewarding. I have always believed in second chances and helping people as much as I can. It became increasingly clear to me that I could do more to help people by representing them than by being a DA, so in 2017 I joined the Liberty Law Center. I found my calling defending clients and fighting to protect their rights. I am truly dedicated to ensuring that my clients receive the most diligent representation available, both in court and in the intricate legal system as a whole.
In 2018 I opened her own firm – Right Law Group, P.C. – to provide the highest level of care and efficiency in the process of guiding people through the criminal justice process.  I use the hiking analogy a lot, but it really works to explain the process of going through a criminal case in court. If you were to take off hiking up a mountain in flip flops without any kind of plan in place, you could potentially wind up in quite a rough spot! You could lose your equipment, get lost in the woods, or fall off a cliff if you aren't careful. Life is not any different.
So many people take off down a road in life without having any idea where they are going or what their plan is if something goes wrong. Then they end up in a rough spot –pulled over for a DUI, dependent on mind altering substance, fighting with their significant other and then the cops get called – and they have no idea how to get back on track in life. I try to act as a guide for my clients and help them find the right path, get back on the trail, and be more prepared for their journey through the criminal justice process. We stock clients up with all legal advice, discovery review, pretrial motions, trial strategy, and contingency planning they could possibly need to get them out of the difficult position they are in and back on the right path in their life.
So, if you are looking for someone to help you get back on track in life, we are here for you. We will work alongside you to make sure you have everything you need to get out of the tough spot you find yourself in and get back to living the life you want.
Thank you again for taking the time to learn a little about me and our firm. If you have any questions about how or what we do, or if you just want to connect, please call, text, email, or find us on social media!
                                                   Sincerely,
                                                       Alexis
.
Call Our Criminal Defense Team for a Free Consultation
You have nothing to lose by getting the information you need in a free initial consultation. To make an appointment at our Colorado Springs office, call (719) 822-6227 or reach out to us online. Our criminal defense team looks forward to learning how we can help you with your case.